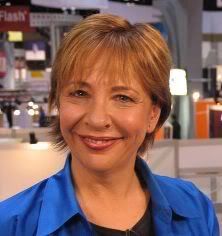 Robin Raskin, Founder, Living In Digital Times
Noted author, editor and founder of Living in Digital Times, Robin Raskin, has joined the advisory team of AIPatHome.com – specialists in educating consumers about universal design homes & products, telecare and other assistive technologies that facilitate aging in place gracefully, safely and longer.
Raskin has been translating technology into consumer friendly terms for more than 25 years. In 2007, Raskin became the co-founder of The Sandbox Summit: A
Playdate with Technology, an event created in partnership with the Consumer
Electronics Association (CEA). This year she's co-producing Kids@Play, Mommy Tech, Higher EdTECH, Digital Health and  Silvers Summit, each devoted to exploring the technologies relevant to these particular lifestyles.
"The knowledge and experience about technology in general, seniors especially, that Robin Raskin brings to our mission of letting people know how assistive technologies can be used to support aging in place is invaluable," said Meres McCarroll, AIPatHome principal.  AIPatHome.com has an Age in Place Tech Center that showcases how technology can extend living in the home of one's choice as well as contributing to overall quality of life. They also have one of the most comprehensive directories of age in place related services and products on the Internet.
Robin has been the editor-in-chief of FamilyPC, editor of PC Magazine, and columnist for USA Today Online and the Gannett News Service, winning numerous prizes for her coverage of technology. She's has authored six books about parenting in the digital age, for publishers including Random House, Simon and Schuster, and Hyperion. Her most recent book, A Parents' Guide to College Life (Random House, 2006) provides parents with practical answers to 180 "must ask" questions. Today, you can find her work on Yahoo! where she covered Boomer technology, DiscoverCard's online magazine, and at www.RobinRaskin.com.
An outspoken advocate for parental involvement in raising digital kids Robin frequently addresses parents and educators, policy makers, and the high tech industry on topics like Internet safety and raising digital kids. She has testified before the Federal Trade Commission on Internet safety, presented research to then-Vice President Gore on parental technology, and was part of then-First Lady Hillary Clinton's series of meetings for women editors
Raskin lives in NYC and the Hudson Valley, with her husband, her three drop in now and then children, and closets full of obsolete technology.
* * *
Other AIPatHome.com Advisory Team members include: Glenn Campbell, Dr. Kevin Doughty, Richard Duncan, Adam Fine, Drue Lawlor, Charles Lowe,  Chris Pederson, Mary Jo Peterson, John Piazza, Sr., Eliot Sefrin, Shoshana Shamberg, William Slease, Louis Tenenbaum